In this article, you will find helpful tips for troubleshooting issues when importing assignments and grades from Google Classroom.
Where to Start
If you are experiencing issues when importing from Google Classroom, please be sure to check these parameters:
Due Date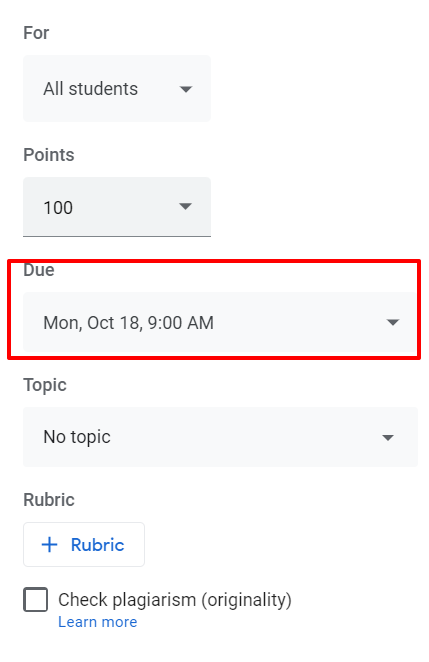 In order for your assignments to appear in the drop-down menu to import, a due date must be assigned. This may also be a contributing factor when the assignment is able to be imported into your ioClassroom gradebook, but no grades appear. There are many ways you can verify this- one example is by editing the assignment as shown in the screenshot.
Return Grades

Once you have entered grades for your students in Google Classroom, in order for the grades to transfer properly into your ioClassroom gradebook, you must Return the grades. If you select the All Students checkbox or the individual students check boxes, the Return button will turn blue, indicating that they have not yet been returned.

Conversely, if you select the All Students checkbox or the individual boxes and the Return button is Grey- this means it has already been returned.
Special Characters

Assignment titles should be strictly alpha-numeric and should not contain any special characters, graphics, etc. The example shown above would likely have issues with importing due to the graphic, the colon, and the exclamation points. To troubleshoot remove the special characters from just one of the assignment titles that you are having issues importing the grades for. Then attempt to import the assignment altogether again with the title that does not contain the special characters to see if this solves the issue.
NOTE: It is often the case that an assignment title with special characters may import with no issue for some students and will not for others- or that it will work for some assignments that contain special characters but not for others. This is a glitch that our developers are aware of, but we do not currently have a fix for.
Student Google Emails

If a particular student's grades are not importing, go to the student's portfolio and confirm that they have a Google Email listed and that it is correct. If it is missing or incorrect, only users with the designated permissions may edit using the pencil icon. Please contact your administrator to make any necessary changes.