In this article, you will learn how to add, edit, or remove user permissions for user accounts in Classroom. In order to edit a user's permission, you must be a Classroom Administrator.
Where to Start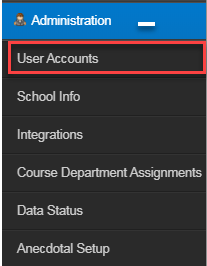 Under the Administration tab, click User Accounts.

On the next page click the yellow pencil icon next for the user account that you would like to modify permissions for.
The Basic Information page allows you to edit the information of a new or existing user:
The Email field is the email address that the user will use to sign into Classroom.

The Title, First Name, and Last Name fields provide identifying information regarding the user.

The Alt Email field is for users who would like Classroom emails sent to a second email address. Please note that this address CANNOT be used to sign into Skedula. Most teachers will sign in with their @schools.nyc.gov address. Alt email is used as a secondary account only for notification purposes.

The Job Title field describes the user's position.

The Type of account limits various functions like access to the Administration tab and is also used for grouping features in which you can sort users by "Type". There are three types of accounts:

Administrator - allows the user to manage the Classroom and PupilPath Portals and includes functions such as account creation, installing and running the Data Extractor, downloding data
Teacher - allows a teacher full access to the classes that they are teaching and to the students enrolled in those classes. At a bare minimum, all classroom teachers must have the following access. If you wish to give a teacher or a staff member access to see the portfolio of every student in the school you need to make sure that the box "Access to All Student Portfolios" is checked.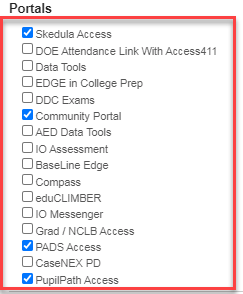 Staff - is for staff other than classroom teachers, such as Guidance Counselors, Secretaries, Deans, etc.
Scrolling down the page will display all of the different User Rights that you are able to modify. To add/delete a User Right simply check or uncheck the tiny box that corresponds to that user permission.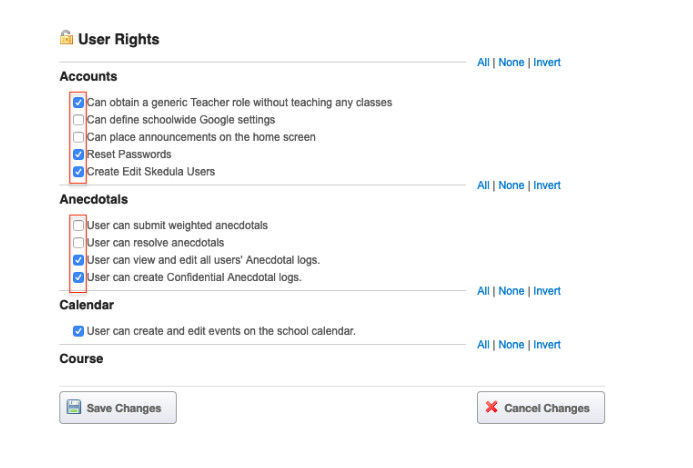 When done click Save Changes.