In this lesson, you will learn how to access PADS as an administrator in order to view and analyze student performance.
Where to Start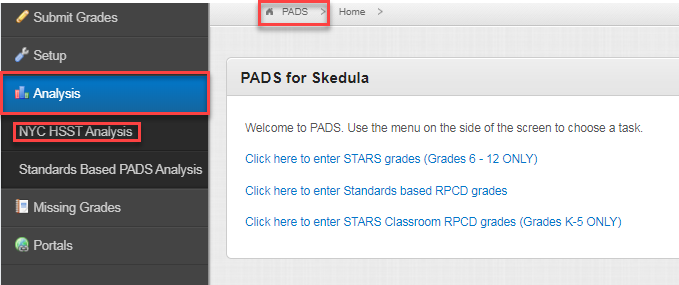 On the PADS Portal, click on Analysis and then select NYC HSST Analysis.

The selection screen allows the user to customize their search based on many different parameters. After selecting the Term and Marking Period, you can set Filters if needed.

After the Filters have been set, you can set the X-Axis and view by Department, Teacher, Course or Course/Section. Next, you can set Plot Options. The choices are Passing Grades, Failing Grades, Honors Grades, Missing Grades, and Special Grades. Finally you can print or download your data.

Once the parameters are chosen, you will see the following graphical representation of the data.

Clicking on the graph will display the underlying data.