In this lesson, you will review how to add, edit or delete co-teachers to a class.
Where to Start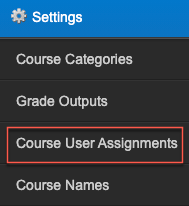 Click Settings on the left-hand side of Classroom and then click Course User Assignments.
Click on the drop-down menu underneath either filter to begin typing. When you have found the course or user you are looking for, click on it.
Note: This is optional. If you see the course you are looking for you do not need to filter.

Once you have located the course, click Add New Teacher.
Choose the user you would like to add from the drop-down menu.
Check the box next to the permissions you would like to give the user to this course.
Click Apply Changes to save
Changing User Permissions to a Course
To change whether a user can edit grades, assignments, or attendance for a course, click the pencil next to the user's email address.
Delete a User from a Course
To delete an added user from a course, click on the red X next to the user's email address.

Once a teacher has been added or removed, click the blue bubble to reprocess the data and update all portals including Classroom.
You can find more detailed instructions on sharing seating charts with co-teachers here.