Before You Get Started
Anecdotal weights can be totaled and made into Student Badges. Badges function as tags for particular students established by the merit/demerit function. These badges can be defined by grade level, then will be displayed on the Student Portfolio page and are searchable on the Anecdotal Search page.
Where to Start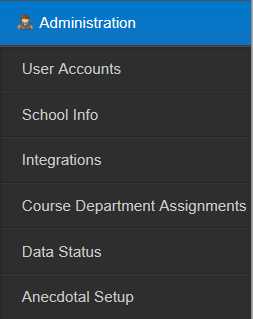 Go to the "Administration" tab then "Anecdotal Setup."
Navigate to the Badges Tab

Click the Badges tab on the far right side of the page.
Create Badges

To create a Badge, click Add New Rule.
Enter the score, color, and title of the badge for the selected grade level. Each grade level can be assigned a different set of Badge Rules. You can also choose to copy rules to all grade levels. A student will receive a badge based on where the merit score falls.
Save
Once all rules have been added or copied click Save All Changes. Load All Defaults resets all rules.