In this lesson, you will review how to access the Grades tab in the Student Portfolio.
Grades Categories
1. Select the Grades tab to view the grade categories.
2. The Grades tab is used to view a students progress from current and prior years. Grades has six categories: Progress, Standards Progress ,Student Work, Report Card, Standards Based Report Card, and Transcript.
1. Progress
Click the "Download as PDF" icon to print/download the progress grades.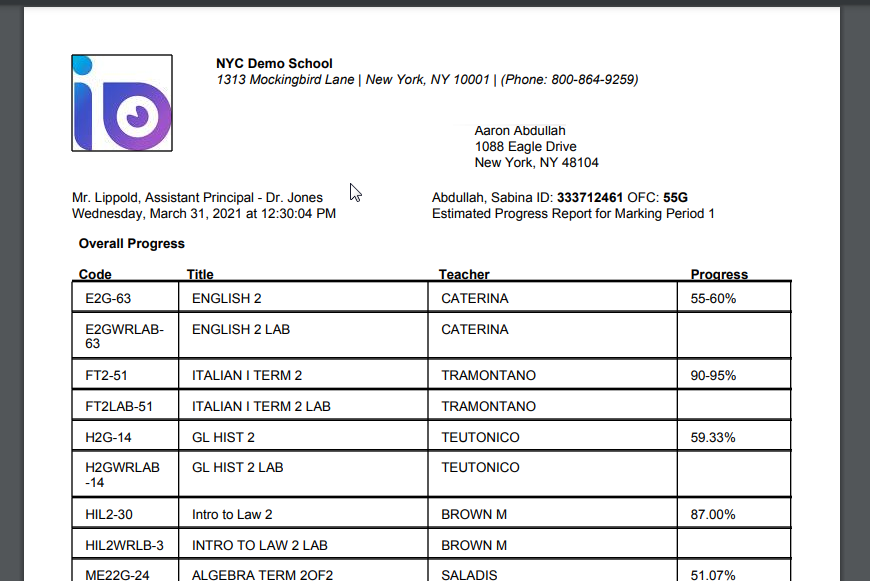 The Progress link displays all Classroom Gradebook averages for that particular student by marking period. You can compare two marking periods at a time to view the progress of the student.
Note: If no data is displayed, the assigned teacher has not entered grades for the marking period.
Click on the grade (average) to see details. Please see the image above. SKD209-01 was selected for this example.
3. Student Work
Student Work is useful if you are using the Student Work Submissions through PupilPath when an assignment is listed as required submission. For example, you can use it to showcase student progress on a writing sample from year to year or improvement in a subject area from marking period to marking period.
Note: You cannot make changes on this screen to the assignment, you must do so at the assignments page.
5. Standards Based Report Card
The Standards Based Report Card link is used to enter Standard Based Report Card grades from Skedula. The comments are displayed on the left column and Mark on the left.
All standards for each course will be displayed according to the marking periods standards selected by the school administration. All courses are separated by Subject Area.
Note: Many elementary schools will use this option.
6. Transcript
The Transcript category provides all official transcript data from your school's SIS (i.e. STARS, IC) and displays the amount of credits earned for each course and the mark earned.
Courses with a green checkmark have been completed, while courses with a red exclamation point are for failed courses.
You can use the Download as PDF option at the bottom right-hand of the page to print the transcript.