In this lesson, you will see all of the available charts in your Classroom dashboard.
Where to Start
1. Click Home, then Dashboard to access your Classroom dashboard.
2. There are 4 buttons that are only seen by users that have access to classes (View My Classes, New Assignment, Submit Grades, Take Attendance).
3. Users that have access to students but do not have access to classes will see View Students.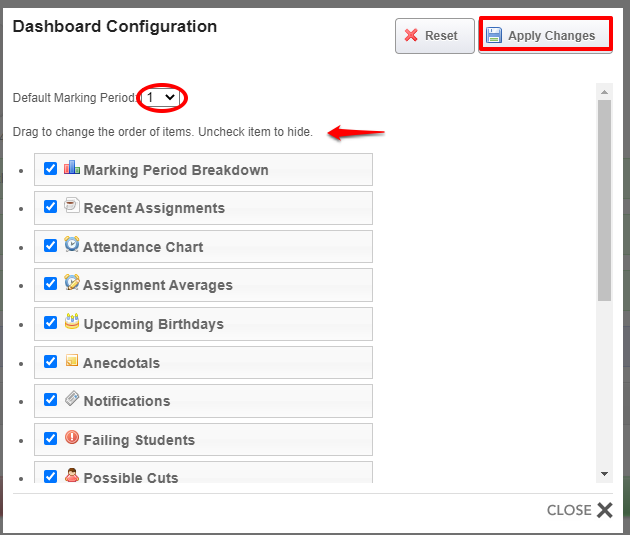 By clicking the Config Dashboard button you can organize and select how things are displayed on your own dashboard. You can also set what the default Marking Period will be displayed. When you are finished with your changes click the Apply Changes button.
Charts
Charts are displayed based on your configuration. The Assignment Usage and Marking Period Charts can be drilled down to further analyze data.
Marking Period Breakdown
Recent Assignments
Attendance Chart
Assignment Averages
Upcoming Birthdays
Anecdotal
Program Changes
Notifications
Failing Students
Possible Cuts
Classroom Blog Updates
School Calendar
Administrative Charts
The dashboard also has items that can only be viewed by administrators.
School Climate
Assignment Usage
Marking Period Averages